Camp Branson Vehicle Bridge Replacement
Client: University of Missouri             Date: 2014-2015
Total Engineering Budget: $60,000
Construction Cost: $140,000
Services Provided:
USFS Coordination
3 Schematic Design Options
Bridge and Abutment Design
Construction Monitoring
HEC-RAS Hydraulic Modeling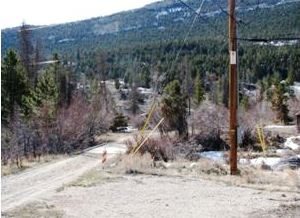 Following the spring flood of 2010, James Gores and Associates, Inc. was contracted by the University of Missouri to replace the pedestrian bridge crossing the Popo Agie River through their Camp Branson Geology Camp in Sinks Canyon. During the flooding, the vehicle bridge was overtopped with runoff, however, did not sustain appreciable damage. After successful completion of the pedestrian bridge, the University turned their attention to the aging vehicle bridge. The bridge was determined to be structurally deficient for anything over single axle, light vehicle traffic. Most notably, this meant fire suppression vehicles could not cross the bridge in order to protect the ten structures on the island in the event of a fire.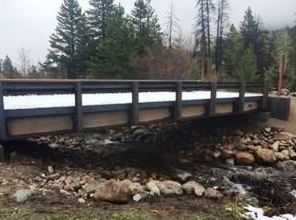 James Gores and Associates, Inc. was contracted to design a vehicle bridge replacement meeting United States Forest Service (USFS) standards. We teamed with Big R Bridge for structural engineering on the project, and coordinated our efforts with the USFS, to deliver a bridge which would handle loading requirements for fire protection, and commercial traffic for the camp, as well as allowing flood volumes associated with a 100 year run-off event to pass unencumbered beneath the bridge.Coordination efforts with the USFS included an extensive review process with input from specialists on bridge engineering, hydrology, wildlife biology, fisheries biology, plant biology, and special uses permitting. The project also underwent stringent review processes with the US Army Corp of Engineers, the Wyoming Department of Environmental Quality, and the State Historical Preservation Office.
Project Documents
Plan Holders of Record
You will need to login before you can see this project's plan holders.