MEETEETSE FFA BUILDING WATER & SEWER EXTENSION
CLIENT:  Town of Meeteetse                                        DATE:  October 2017
SERVICES PROVIDED:                                           Total Engineering Budget:  $21,288.00
Water Line Extension Design                             Construction Cost: $87,888.15
Sewer Line Extension Design
Coordination with Wyoming Department of Environmental Quality
Design of Utilities according to Wyoming Public Works Standards
Construction Observation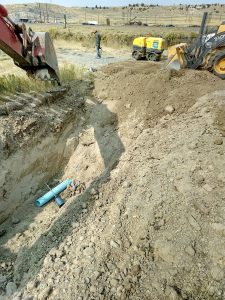 James Gores and Associates provided a preliminary design to extend approximately 500 linear feet of water and sewer lines to service the new FFA Building put in place at the Meeteetse Rodeo Grounds.  The project was later extended by request of the owner to nearly 1100 linear feet of water line with isolation valves, taps and fire hydrants.
The sewer line was dug through areas of concrete rubble fill.  This was a condition that was best dealt with in the construction process.  James Gores and Associates worked with the town to budget for the unforeseen conditions and provided for additional fill to be integrated into the project.
We accommodated requests by the owner to change valve and tap locations during construction and we worked with the contractor to allow for future extension of the project.
This project enabled Meeteetse to better irrigate their baseball fields from the city water system and provide services, as well, to the cemetery buildings. The Town of Meeteetse updated existing water curb stops and expanded the town water main.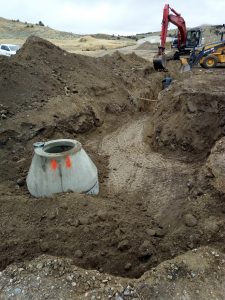 Project Documents
Plan Holders of Record
You will need to login before you can see this project's plan holders.