Riverton Valley Irrigation District Emergency Canal Repair
In June 2017, the Riverton Valley Irrigation District Canal was overtopped with flood water coming into the canal downstream of the diversion. The canal experienced a total failure in one section, with a new river channel cutting through the canal completely, and running back into the main channel of the Wind River. This left the canal dry, and the irrigators downstream with no source of water for their crops.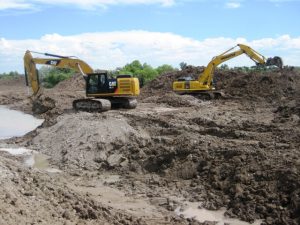 James Gores and Associates surveyed and designed a new canal section to be input into GPS capable equipment so that construction could happen quickly to replace that segment that was destroyed. We assisted the district with locating a contractor to construct a new segement of canal after obtaining approval from the US Army Corps of Engineers for construction activities under a Nationwide Permit.
Within a week of surveying and design activities, the contractor, North State Environmental, had the new channel complete.
Project Documents
Plan Holders of Record
You will need to login before you can see this project's plan holders.