Warren Street Walks, Meeteetse, Wyoming
MEETEETSE WARREN STREET
CURB, GUTTER AND SIDEWALK INSTALLATION
CLIENT:  Town of Meeteetse                                                                        DATE:  2016-2017
Total Engineering Budget:  $38,932
Construction Cost: $118,388
SERVICES PROVIDED:
Design of curb, gutter and sidewalk on this steep street
Utility location coordination
Accommodation of off street parking for the town visitor's center
Multi-funding agency coordination
Bidding Services
The Town of Meeteetse selected James Gores and Associates to design safer routes to school for the children that would meet ADA standards set by the Federal Highway Administration. Once designs were finished, the project was bid, and awarded to a contractor.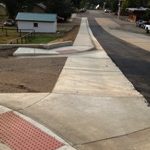 James Gores and Associates provided a design for the project, enabling the contractor to construct the project within 30 days.  Mid-way through construction, a steel main gas line was discovered buried only eight inches deep and under the planned new sidewalk.  James Gores and Associates worked with the local gas company to relocate the line without disrupting construction.  Torrential rain storms further delayed the project, submersing the Contractor's compactor at one point.    James Gores and Associates worked with WYDOT to ensure that the sidewalk was ADA Compliant over this difficult terrain.  Accommodations were made to expand the project in the future as well as account for the tremendous amount of flow that the street would experience in high rainfall period.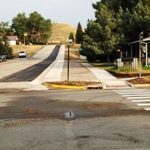 The Street used to spill large amounts of storm water onto private properties. The constructed project eliminated that nuisance and its damage.
Project Documents
Plan Holders of Record
You will need to login before you can see this project's plan holders.